38TH ANNUAL WOMEN OF THE YEAR AWARDS
WAS HELD ON MONDAY, MARCH 13, 2023 AT THE SHERATON GRAND HOTEL LOS ANGELES.
Click here to watch the livestream.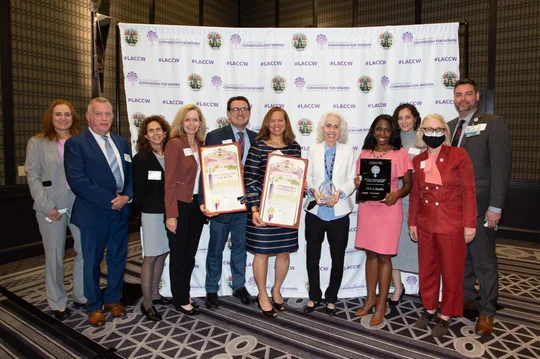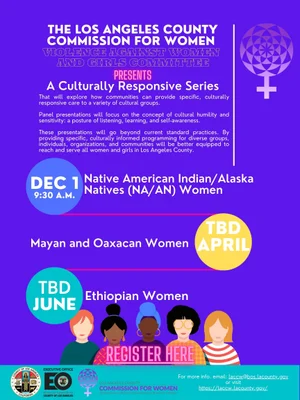 THE VIOLENCE AGAINST WOMEN AND GIRLS COMMITTEE PRESENTS: A Culturally Responsive Series 
The series will explore how communities can provide specific, culturally responsive care to a variety of cultural groups.  Presentations will focus on the concept of cultural humility and sensitivity: a posture of listening, learning, and self-awareness.  And will go beyond current standard practices.  By providing specific, culturally informed programming for diverse groups, individuals, organizations, and communities will be better equipped to reach and serve all women and girls in Los Angeles County.
The December 1, 2022 Series on Native American Indian/Alaska Natives (NAI/AN) Women 



Video is COMING SOON.
NEXT PANEL COMING APRIL 2023.  REGISTRATION LINK TO FOLLOW.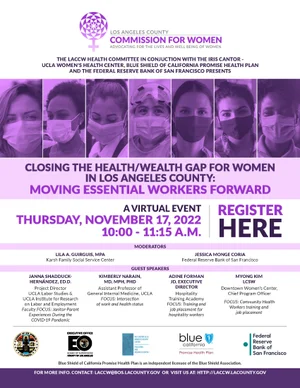 CLOSING THE HEALTH/WEALTH GAP FOR WOMEN IN LOS ANGELES COUNTY: MOVING ESSENTIAL WORKERS FORWARD 
Presented by the LACCW Health Committee in conjunction with the Iris Cantor - UCLA Women's Health Center, Blue Shield of California Promise Health Plan and the Federal Reserve Bank of San Francisco.
Webinar Recording COMING SOON



To View The Los Angeles County Commission for Women 2022 Women of the Year Commemorative Celebration Awards Luncheon
Click the links or QR codes below to view the event.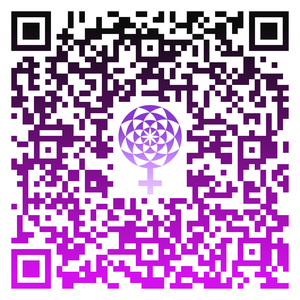 Video Link and QR Code:
 Los Angeles County Commission for Women 2022 Women of the Year Commemorative Celebration Awards Luncheon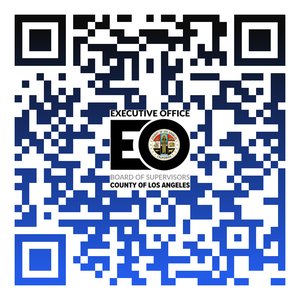 YouTube Link and QR Code:
 Los Angeles County Commission for Women 2022 Women of the Year Commemorative Celebration Awards Luncheon
On March 18, 1975, a motion was introduced to the Los Angeles County Board of Supervisors to prepare a draft ordinance to establish an independent County Commission for Women.  A 15-member commission was created to represent the special interests and concerns of women of all races, ethnic and social backgrounds, religious convictions, sexual orientation and social circumstances.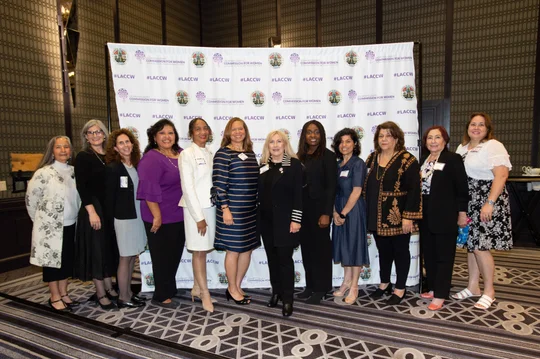 Resilience Scholarship
The scholarship program was created in 1999. This is when the Commission for Women hosted an annual Run/Walk event to raise funds for young women. 
The Commission has taken proceeds from this and other annual events in order to provide over 300 young women supplemental educational scholarships.

Annual Women of The Year Award
Congratulations to the following 2022 Women of the Year Honorees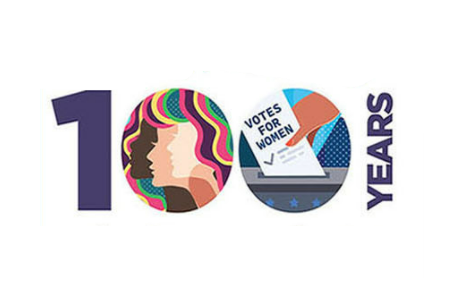 Nomination Application
Nomination Application for "Women of the Year" Awards.
Celebrating 100 years of passion, purpose and progress as we look to the past and craft the future.
LA County Has 5.1 Million Women And Girls
16
Asian Pacific Islander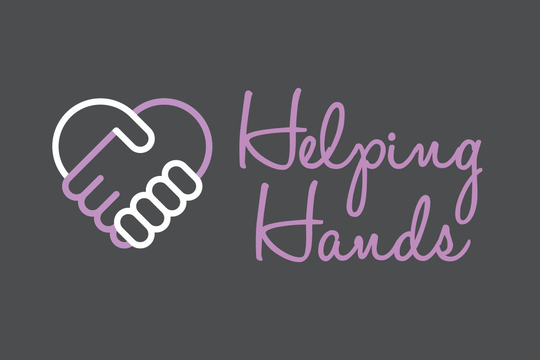 Helping Hands
You are not alone - help is here for you. Visit the Los Angeles County Commission for Women's website Helping Hands tab to access Rape Crisis Centers and Crisis Hotlines.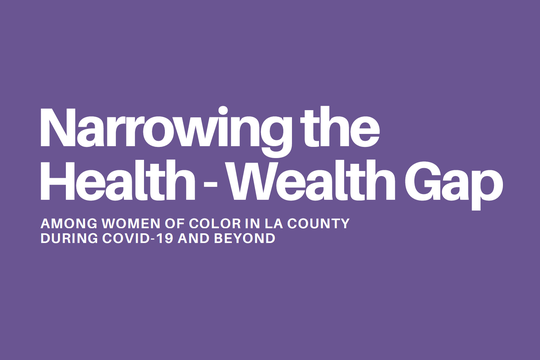 Narrowing The Health-Wealth Gap
To View the LACCW Narrowing the Health-Wealth Gap Event please click on the link below.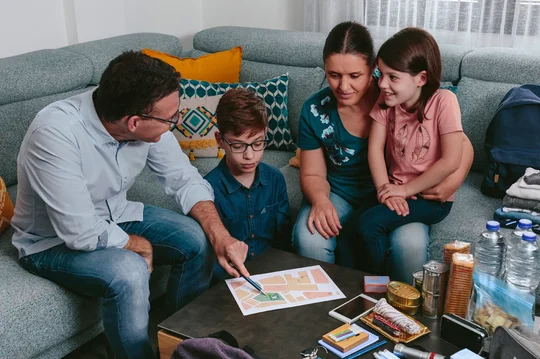 Promoting Child Care Equity
To View the LACCW Promoting Child Care Equity webinar please click on the link below.
2018 Report on the Status of Women in LA County
The 2018 report on the status of women in Los Angeles county offers a portrait of the 5.2 million women and girls residing in our county. Based primarily on data from the united states census, the report includes a demographic overview of the ethnicity, age, race, family relationships, and veteran status of women and girls in la county. Sections on educational attainment, economic wellbeing, home and family, health, and violence against women offer data, tables, and graphics of how women and girls are faring here on a wide variety of indicators of wellbeing. The report was commissioned by the Los Angeles county commission for women and conducted by Mount Saint Mary's University. It was published on January 2019.